Sunday, August 17, 2014




1:00 PM to 6:00 PM


You are invited to an inflatable birthday bike ride!
A PORTION OF PROCEEDS GO TO 596 ACRES!
BUY TICKETS HERE:
https://www.eventbrite.com/e/aeolian-ride-birthday-new-york-tickets-12108058529
Inflatable birthday what?
AEOLIAN RIDE's 10th Birthday! 10 years ago, 52 people showed up on bikes, I put inflatable costumes on them and we rode bicycles from Manhattan to Brooklyn. Since then Aeolian Riders have taken an amazing ride through 20 cities around the globe. See it happen here:
http://www.aeolian-ride.info/video.html
What's an Aeolian?
You. On a bike. Inflated. :) "Aeolian" is a Greek word- to be caused or carried by the wind. The costumes inflate as you ride - but don't worry you won't get carried away - at least not by the wind.
Why is this happening?
Aeolian Ride has a magical effect of creating a loop of joy between the spectator and the performer. It also transforms the everyday street to a place for public art where the public is the art.
What does the Aeolian Ride want for its birthday?
No presents! - Ok, yes presents! The Aeolian Ride would like to give to those who give to the community. Ticket sales proceeds will be donated to
596acres.org
- a wonderful non-profit helping communities get access to public spaces, including our party space, Spontaneous Interventions.
Can I inflate and ride?
Have a bike and a helmet? Great! Now you just need a ticket. Hurry, there are a limited number of suits! A portion of proceeds go to
596acres.org
My kids want to inflate too!
Are they over 5 with a helmet and wheels? Sweet! Sign the kids up!
Can I just party?
Promise to show us your favorite dance moves? Your ticket awaits.
Where can I watch?
Sign up for the newsletter to recieve the route info!
Who's crazy idea is this?
Aeolian Ride was created by artist, Jessica Findley, and has been supported by people who love to play. See her work at 
www.sonicribbon.com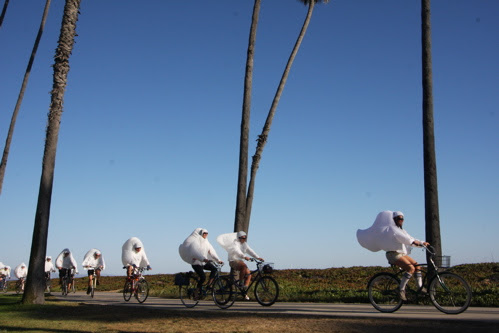 _____________
SCHEDULE
1:00pm
- Adult Ride Sign in & Suit up!
Meet near Grand Army Plaza on Prospect Park West
2:30pm
- Aeolian Ride! (Big kids only :)
Inflatable bike to through Brooklyn, over Brooklyn Bridge to Manhattan
3:30pm
- Ferry!
Take Ferry from Manhattan to Governor's Island
4:00pm - 6:00
- Birthday Party!
Fundraising Cupcake Dance Party on Governor's Island at Spontaneous Interventions building 403, Colonel's Row
4:30 - 5:00pm
- Aeolian Kid's Ride 1!
5:00pm - 5:30pm
 - Aeolian Kid's Ride 2!
Guided Aeolian Kid's Ride loops around governor's island.
5:30pm
- Piñata time!
Ending the party with an explosion of sweets!
6:00pm
- Clean Up Time!
6:30pm
- Return Ferry
7:00pm
- Last Ferry
Press Images: http://www.aeolian-ride.info/presskit.html
Contact: connect@aeolian-ride.info